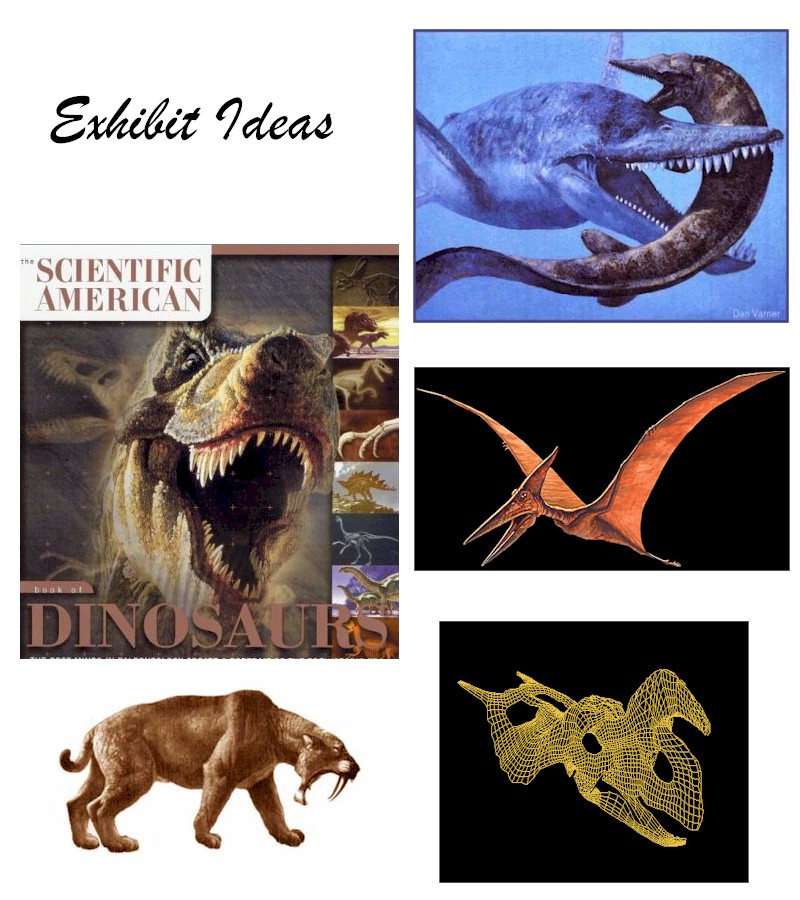 Several different types of exhibits are planned. All would be designed to visually engage the visitor and incorporate educational and thought provoking aspects of paleontology and inter-related fields of science. Static displays would be supplement with many interactive exhibits. For example, in the "Meteor Storm" showcased below, visitors must learn to operate a HoverSled and then work as a team of six to eliminate cosmic threats to themselves and earth.
The general display area might host a few dramatic skeletal specimens including a Columbian Mammoth, a pliosaur and a ceratopside. The objective would be to include just a few specimens but the main emphasis of this museum would not focus on dinosaurs in particular. Instead, the exhibits would be designed to interpret many varied aspects of paleontology such as ecosystem function, paleo-climatology and other areas of current field research.
The goal of Page Paleontological Science Center would be to challenge and engage visitors and not put them to sleep with an endless row of static displays
Updated exhibits related to current field research and travelling exhibits would be featured to keep the visitor experience "fresh" and encourage repeat customers.
After the visitors experience the Science Center offerings, they proceed to the motion simulation ride area for
an entertaining and stimulating amusement ride experience. One ride might feature a story line of dinosaurs such as IWERKS award winning "Escape from Dino Island". Another ride might feature a cosmic impact theme.
Visitors would then proceed to the Book Store / Gift Shop to complete their educational experience.
---
Exhibit themes could include the following click on any highlighted exhibit for more details):
Pliosaurs and the Cretaceous Mancos Ocean Environment
Global Warming (including a discussion of our various energy sources)
"Tracks of Time" - Read the short story about a migrating herd of dinosaurs that might have come through Page, Arizona during Jurassic time when small oases existed in the Navajo sand dune paleo-environment.
---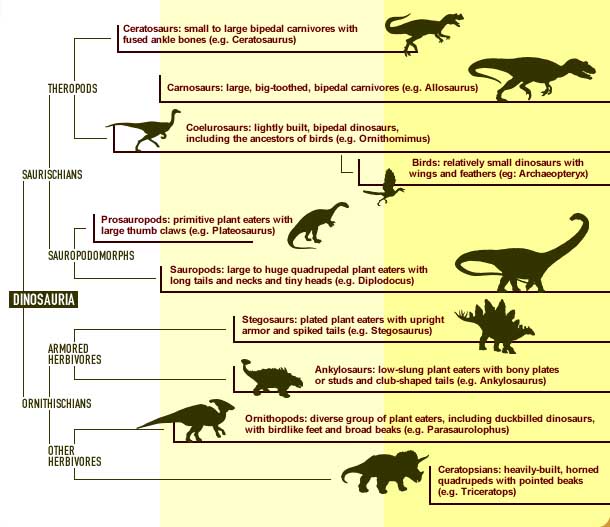 ---
An example of a Traveling Exhibit
The Tiniest Giants: Discovering Dinosaur Eggs

The Natural History Museum of Los Angeles County's national tour of newly discovered dinosaur eggs from Argentina, the largest nesting site ever found. Exhibit components include: real egg specimens, holographic recreations of the eggs, diorama of the site, functional prep lab, children's hands-on activity areas, and full scale reconstructions of the giant titanosaurs: Argentinosaouus and Cartotaurus.
---
An example of an Interactive Exhibit

METEOR STORM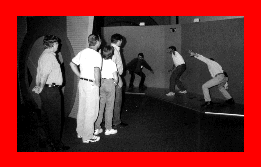 Meteor Storm is set in the future. Six participants blast off on HoverSleds from Moonbase Alpha, where specialized research is conducted on extraterrestrial objects including meteoroids, asteroids and comets.
After learning how to operate your HoverSled, a swarm of meteoroids is hitting the area, and you must guide your HoverSled through this storm to your closest cover, the Earth Launch Station. But your adventure is just beginning.
You must launch into the storm to try to thin the storm's debris cloud, which is heading toward Earth. Using the disintegrators on your HoverSled, you can fly straight for a meteoroid so your disintegrator can reduce it to dust. Some art too large for just one blast, and teamwork will be needed to eliminate these threats.
After reducing the debris clouds, there's one more adventure ahead. All participants head out once more, this time to defend communication satellites from remaining debris. One huge fragment remains so huge, in fact, that it can make it through the Earth's atmosphere and cause serious damage. Deflecting this massive fragment will require teamwork from all the participants to launch a group blast.
Will you be successful, or will the fragment make it to Earth? The final scenario is up to you.
---
An Example of a Paleo-geography Map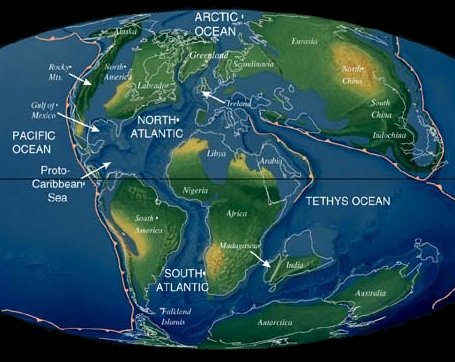 Early Cretaceous PaleoMap
---